Head and Neck Lymphedema — A Common Complication in Patients Treated for Head and Neck Cancer
Date and Time: Tuesday, July 18th , 2017 4:00 PM – 5:30 PM EDT
No ASHA CEUs will be offered for this webinar.
Webinar Description:
Head and neck cancer patients are routinely treated with surgery, radiation therapy, chemotherapy, or protocols that combine these modalities.  The damaging effects of these treatments on the lymphatic system are well documented and primarily include edema and fibrosis.  When lymphedema affects the face and aerodigestive tract including the lips, tongue, and pharynx, the cosmetic and functional sequelae often result in problems with articulation, difficulty swallowing, drooling, impaired vision, respiratory obstruction, and poor self image.  The emotional response generally includes frustration, social isolation, and depression.
Head and neck cancer accounts for approximately 4% of all cancers.  Head and neck lymphedema occurs in up to 75% of treated head and neck cancer patients but remains under-recognized and inadequately managed. Current data is sparse, creating a paucity of skilled therapists who treat head and neck lymphedema.  Successful management with either a self-administered or outpatient based complete decongestive therapy (CDT) program has shown in excess of 60% improvement in treated patients.  This seminar will provide current updates in evaluation and treatment of this debilitating disease based on our experience managing more than 1,200 patients with head and neck lymphedema.
Learner Outcomes: 
1.       Participants will be able to identify the risk factors and differential diagnosis associated with head and neck lymphedema.
2.      Participants will understand the evaluation, management, and long-term outcomes in patients treated for head and neck lymphedema.
Meet the Presenters: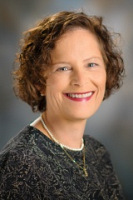 Dr. Jan S. Lewin received her Ph.D. from Michigan State University in 1994.  She was the Director of Speech Pathology atthe University of Michigan from 1985 until she joined the faculty at M. D. Anderson Cancer Center in 1995 as an Assistant Professor in the Department of Head and Neck Surgery, and was subsequently promoted to Professor in 2010.  She is the Section Chief of Speech Pathology and Audiology.  She is a well-known clinical authority on the restoration of speech and swallowing function in patients with head and neck cancer and remains an advocate for inclusion of speech pathologists and audiologists in the multidisciplinary evaluation and treatment of cancer patients.  Under her direction, the Section of Speech Pathology and Audiology at M. D. Anderson Cancer Center is recognized as the premiere program for functional rehabilitation and restoration of oncology patients. Dr. Lewin's contribution to the education of graduate and medical trainees are well recognized particularly in the areas of alaryngeal speech restoration following total laryngectomy, rehabilitation of speech and swallowing after treatment of oral cavity, pharyngeal, and laryngeal cancer, and videostroboscopic evaluation of laryngeal functioning.  She has mentored over 55 graduate students and supervised numerous clinical fellowships since joining M. D. Anderson Cancer Center in 1995.  She has taught a variety of formal academic courses and served on the faculty of several universities as an adjunct professor over the past 20 years.  Dr. Lewin has been an invited guest lecturer at many local, national, and international conferences, symposia, and meetings in her own or related fields of specialty including head and neck surgery, radiotherapy, medical oncology, and plastic surgery and reconstruction.  In addition to student education, she has served as the Director of the International Association of Laryngectomees Voice Institute and continues to lecture and write extensively for national and international public education networks and cancer survivor groups.
Dr. Lewin has received numerous honors and awards for her meritorious contributions to academic scholarship.   Dr. Lewin was made a Fellow of the American Speech-Language-Hearing Association in November, 2003.  In 2009, she received the Outstanding Alumni Award, College of Communication Arts & Sciences, as well as the Herbert J. and E. Jane Oyer Endowed Lecturer, 2010, from Michigan State University. She is board certified in swallowing and swallowing disorders by the American Speech-Language-Hearing Association.  She continues to serve on a variety of institutional committees and has been a steering committee member of the Voice and Voice Disorders Special Interest Division of the American Speech-Language-Hearing Association, an invited committee member of the American Society of Clinical Oncology, American College of Surgeons Oncology Group, and the Radiation Therapy Oncology Group Surgical Subcommittee, among others.  Dr. Lewin serves on the editorial board for Head and Neck and provides editorial review for numerous other professional journals.  Dr. Lewin has been the principal investigator on 15 research studies and a co-principal investigator or co-investigator on multiple multidisciplinary research protocols and investigations, most currently, 5 funded and active research grants.  Finally, Dr. Lewin has written or co-authored over 100 articles in peer-reviewed journals, 22 book chapters, along with a myriad of other publications on the topic of functional restoration of speech and swallowing.
Christine Porsche, M.S. CCC-SLP, CLT, is a graduate of Baylor University.  She joined the Section of Speech Pathology and Audiology at MD Anderson Cancer Center in 2013 and became a certified lymphedema therapist in 2014.  She is an expert and leading clinician in the area of head and neck lymphedema and myofascial release.
Holly Woodall, M.C.D. CCC-SLP, LMP, CLT, is a senior speech language pathologist/certified lymphedema therapist at MD Anderson Cancer Center.  She has advanced training in lymphedema, myofascial release, and manual therapy.  She is currently researching and developing a manual speech pathology program for patients receiving head and neck cancer treatment.
Medical disclaimer. This Webinar is for informational purposes only and should not be used as a substitute for consultation with an appropriate health care professional, as each individual's medical situation is unique. It is important that you consult with your medical professional (e.g., physician, SLP) before implementing any course of treatment. Experiences that are new to you should be done with the help of a caregiver and when access to emergency medical care is available.